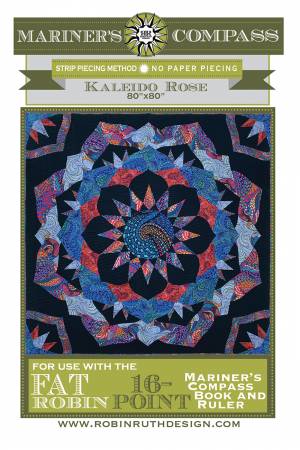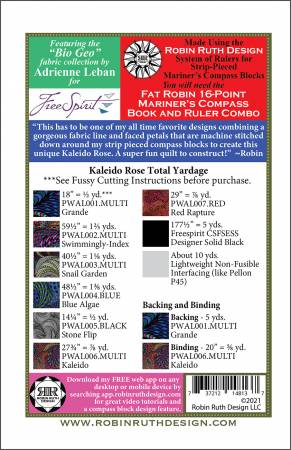 Robin Ruth Design
Kaleido Rose Pattern - 80" x 80" - RR213
80in x 80in.
Strip Piecing Metho - No Paper Piecing
Made using the Robin Ruth Design System of Rulers for Strip-Pieced Mariner's Compass Blocks.
You will need the Fat Robin 16 point Mariner's Compass Book and Ruler Combo.
Quilt made using the Bio Geo fabric line designed by Adrienne Leban for FreeSpirit Fabrics. Construction features a strip pieced Round Sunflower block, Big Pies, and Quarter Compass blocks surrounded by petals that have been faced and appliquéd in layers around the center.

Printed Paper Pattern

Final Product: Quilt

Finished Size: 80in x 80in

Technique: Strip Pieced Mariner's Compass Blocks and Machine Appliqué

Templates included: No - sold separately

Skill Level: Intermediate