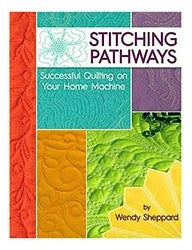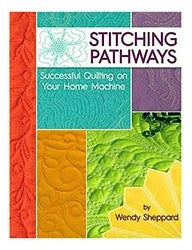 Wendy Sheppard
Stitching Pathways book - 726937
Get results you love with this complete visual guide to quilting on your home machine! Expert designer, author, and blogger Wendy Sheppard wants quilters of all skill levels to say, "I made this from start to finish" with pride! From straight line quilting to beautiful free-motion techniques, Wendy's advice and proven methods guide you through each step to build skill and confidence.
Step-by-step stitch guides for over 25 quilting designs increase confidence at each turn for basic to advanced free-motion techniques. 

Loaded with detailed diagrams and photographs to teach each design.

Includes Wendy's secrets to using and caring for your home sewing machine for quilting projects both large and small. Learn which threads, needles, batting and notions work best!

Quilt sampler projects included for perfecting new skills, each one with careful how-to and diagrams to guide the quilter each step of the way.

A unique approach to teaching machine quilting: diagrams include directional arrows and rests for breathing and regrouping – essential for maneuvering the quilt sandwich.

Each stitch design is broken down into easy steps with a starting and stopping point, and arrows to give the direction to stitch. The consecutive stitches are illustrated in a different color to make your stitching paths easier to follow.

For each step, the section to be stitched is shown as a solid line with arrows. The previously stitched sections are shown as dashed lines. This makes it easier to focus exactly on the part to be stitched.