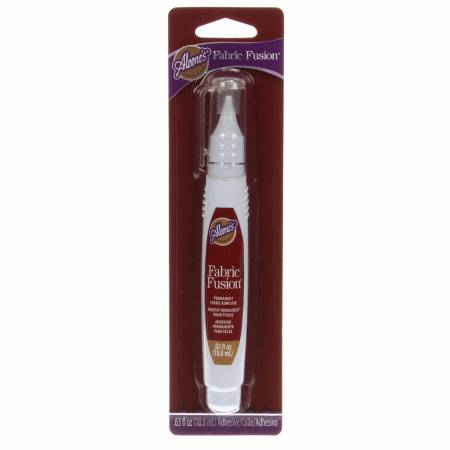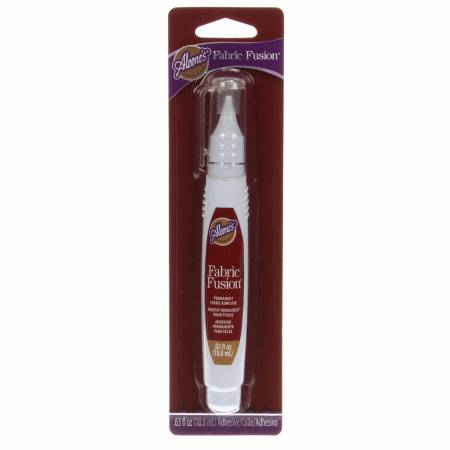 Aleene's
Fabric Fusion Permanent Fabric Adhesive Pen - 0.63 oz - 25219
Aleene's Fabric Fusion: Permanent Dry Cleanable Fabric Adhesive Glue Pen with PRECISION APPLICATOR, .63oz (18ml)
Aleene's  Fabric Fusion Pen offers a unique clear, water-based, nontoxic urethane adhesive that provides a permanent fabric bond with an easy-to-use pen. This new package design makes application a snap. The fine tip provides precise placement every time. 
Aleene's Fabric Fusion is dry cleanable and does not string while applying to fabric. It is formulated for adhesion with fabric to a variety of surfaces and embellishments, including: nearly every type of fabric, glass and acrylic rhinestones, sequins, beads and trims.
How to use Aleene's Fabric Fusion: Permanent Dry Cleanable Fabric Adhesive Pen
1. Always test for best results. Pre-wash garment (do not use fabric softener.) 
2. Apply an even coat of glue to fabric or embellishment. Press onto garment. If needed, hold in place with tape or pins until glue is set. 
3. Wipe pen tip clean after use. 
4. Let dry 2-4 hours. Washable after 48 hours. Turn inside out, wash on gentle cycle; dry in low temp dryer. Dry cleanable.
Tips & Techniques
1.      When adhering fabric to fabric, apply the glue with a brush for a smooth finish. Glue does not need to solidly cover the area but there should be enough to hold it in place and always on all edges.
2. When adhering heavy threads or thin yarns and fibers, squeeze a very thin line and lay the threads, etc. into the bead of glue. In this case it is better to use a heavy pin to make the hole in point of the applicator instead of cutting the top off. Sometimes twisting the fibers will keep them together enough to give a straight line when glued down.
3. Use this glue sparingly though more can be applied around the embellishment.