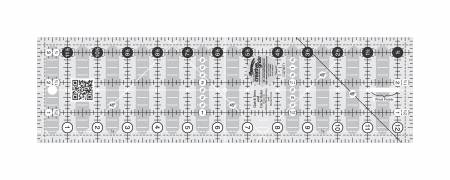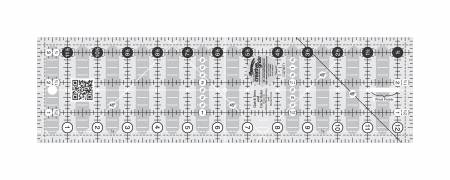 Creative Grids
Creative Grids Quick Trim & Circle ruler - CGRMT1
This ruler is designed to cut any 45 degree angle with seam allowance included. It will also draw circles in 1/4in increments from 2in to 22in.
Easy to read black and white markings.

Includes our exclusive Turn-a-Round feature as well as all of the markings of a traditional Creative Grids® ruler.

45 degree angles allow for adding seam allowance to flying geese units and half-square triangle blocks so you can trim before you sew.

Angled lines also help in trimming binding and mitered border seams.

Use the holes drilled down the center of the ruler to draw circles.

Comes with fully illustrated step by step instructions.

Scan the QR Code printed on the ruler to view a how-to video of these features and to see the patterns that can be made with this ruler.

Ruler slides easily over the fabric until pressure is applied. Then our exclusive grip holds the fabric in place while cutting, eliminating slipping and miss-cuts.

Total Size – 3-1/2in x 12-1/2in